Cladistic Biogeography: Interpreting Patterns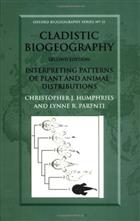 Description:
2nd edition, updated and expanded to incorporate the latest research findings. A concise exposition of the history, methods, applications of, and prospects for cladistic biogeography, drawing on a wide range of examples, both plant and animal, from marine, terrestrial and freshwater habitats.
Other titles from the series : Oxford Biogeography Series
Click to view all titles in this series...
Humphries, C.J.; Parenti, L.R.
Price £45.00

Craw, R.C.; Grehan, J.R.; Heads, M.J.
Price £30.00
You may also like...