Crustaceana. International Journal of Crustacean Research. Vol. 1-43 [with] Supplements 1-7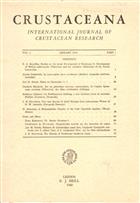 Description:
In wrappers as issued. Vols 1-7 have 4 issues per year, from vol 8 onwards only 3 issues. Also added to this run are parts 1-2 of vol. 44 (1983)
Condition
Vg run
Other titles from the collection : Dr Richard Hamond's Library
You may also like...