Diaspididae (Hemiptera: Coccoidea) Fauna of New Zealand 66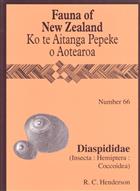 Description:
Adult females of all 49 species of Diaspididae known from New Zealand, except the Leucaspidini, are described and illustrated. Four new genera and seven new species are described. The 1st- and 2nd-instar nymphs of all the endemic species and of four Australian species that are of systematic interest are also described and illustrated. Keys to adult females of all genera and species
Other titles from the series : Fauna of New Zealand
You may also like...