Die Brutbilder der wichtigsten Forstinsekten: Feldbestimmungsschlüssel für Deutschlands, Österreichs und der Schweiz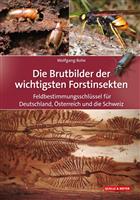 Description:
Text German. Identification guide to about 100 of the most common or important insects causing damage to trees in Germay, Austria and Switzerland, through the traces/galleries left by their activities in wood and bark. Easy-to-use keys enable identification. Information on the species, including a photo and the level of damage caused. This unique field identification key gives all interested parties a completely new access to the most important forest insects and is an essential tool for forest students, entomologists, foresters and forest owners.
You may also like...