Die Gesteine Deutschlands: Fundorte - Bestimmung - Verwendung [The rocks of Germany: Locations - determination - use]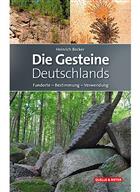 Description:
Text German. 2nd edition. This book presents the rock forms that can be found in Germany in detail, describes their formation and leads to the typical places where they were found. A central part of the work is devoted to the determination of rocks, for which the author, an experienced geologist, has special techniques and a specially developed identification key ready. This excellently illustrated practical book is a valuable and at the same time inspiring companion for excursions or hikes for everyone who deals with stones for professional or personal reasons. The 2nd edition has been revised and supplemented.
Deutschland ist im wahrsten Sinne "steinreich"! In der Landschaft, im Gebirge, auf Wegen, an Flussufern oder in Gebäuden: Überall stoßen wir auf Steine! Dieses nun in der zweiten Auflage vorliegende Buch stellt die in Deutschland anzutreffenden Gesteinsformen detailliert vor, beschreibt deren Entstehung und führt zu den typischen Fundstellen. Ein zentraler Teil des Werkes widmet sich der Bestimmung von Gesteinen, für die der Verfasser, ein erfahrener Geologe, besondere Techniken und einen eigens dafür entwickelten Bestimmungsschlüssel bereithält. Dieses hervorragend illustrierte Praxisbuch ist für jeden, der sich beruflich oder aus persönlichem Interesse mit Steinen beschäftigt, ein wertvoller und zugleich inspirierender Begleiter bei Exkursionen oder Wanderungen. Die 2. Auflage wurde überarbeitet und ergänzt.
You may also like...