Die Libellen Deutschlands: Entdecken - Beobachten - Bestimmen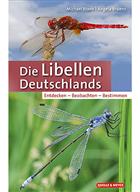 Description:
Text German. In this new photo identification book, all dragonflies in Germany can be identified on the basis of excellent image comparisons. The book highlights the main features precisely through enlargements, notes and arrows, making it perfect for use in the field. Each species is portrayed with information on habitat, characteristics, types of confusion, behavior and hatching. Current distribution maps provide an overview of the regions in which the species can be found.
You may also like...