Die Raubfliegen Deutschlands: Entdecken - Beobachten - Bestimmen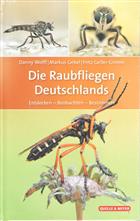 Description:
Text German. First comprehensive photographic guide to the species of Robberflies (Asilidae) found in Germany. A richly illustrated identification key to all recorded species. Comprehensive information on life history, habitats, habits and behaviour. The species accounts are supplemented by distribution maps and colour photos. The features important for identification are clearly shown in the high quality photographs.
You may also like...