Die Süsswasserfauna Deutschlands. Phyllopoda. Heft 10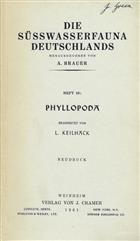 Description:
Text German. Reprint of the original 1909 edition.
Condition
Sm. 8vo, orig. printed wrappers, ink lettering to spine. Vg. From the library of Prof. J. Green (1928-2016) with his name to front wrapper.
Other titles from the series : Süßwasserfauna Deutschlands
Click to view all titles in this series...

Brauer, A. (Ed.)
Price £20.00

Collin, A.; Dieffenbach, H.; Sachse, R.; Voigt, M.
Price £15.00
Other titles from the collection : Prof Jim Green
You may also like...