Die Säugetiere: Einführung in die Anatomie und Systematik der recenten und fossilen Mammalia. Bd I-II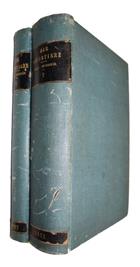 Description:
Complete in two volumes. 2nd edition.
Condition
Roy. 8vo, cloth, leather title-pieces; spines scratched, with a few small tears to cloth, printed wrappers retained. Inscription from the author to C. Forster Cooper, Palaeontologist, and at the time, Director of the Cambridge University Museum of Zoology (He later became Director of the British Museum (Natural History)). From the library of the anatomist and surgeon, Prof. A.J.E. Cave, with his signature to the endpapers. Vg.
Other titles from the collection : Prof. A.J. Cave's Library
You may also like...