Dr. H.G. Bronns Klassen und Ordnungen des Tierreichs. Bd. 2, Abt. III: Echinodermen (Stachelhaüter). I Buch: Die Seewalzen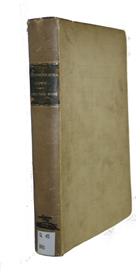 Description:
Text German
Condition
Library buckram (soiled with some wear, spine label chipped). Ex-lib: label to spine, a few small ink stamps. Title page and lower corner of plate 16 soiled.
Other titles from the series : Bronns Tierreich
You may also like...