Dragonflies and Damselflies of Costa Rica: A Field Guide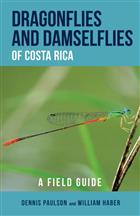 Description:
Among the largest of all insects, dragonflies and damselflies are conspicuous. Active during the day, often brightly colored, and extremely photogenic-something about their appearance and dashing flight suggests a primeval world of tree ferns and dinosaurs.
The first guide of its kind, this book includes an in-depth introduction with an overview of Costa Rican biodiversity and illustrated morphological terms. The species accounts show males and females of most species, detailed illustrations and close-ups of key distinguishing features, and descriptions of habitat, behavior, and range. Dragonflies and Damselflies of Costa Rica gives readers the information they need to identify nearly every species in the country. Experienced dragonfly fans and new enthusiasts alike will find it an indispensable resource.
Other titles from the series : Zona Tropical Publications
Click to view all titles in this series...

Hanson, P.E.; Nishida, K.; Solls, Á.
Price £22.99

Zuchowski, W.
Price £28.99

Hanson, P.E.; Nishida, K. (Illus)
Price £25.50
(Save £7.50)
You may also like...