Dynamic Biogeography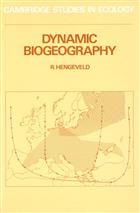 Description:
Biogeography is an increasingly important area for ecology, dynamic biogeography being the study of biological patterns and processes on a broad scale both geographically and temporally. Dynamic Biogeography opens with a survey of the different approaches encountered within the subject. The remainder of the book is arranged into four parts. The first is concerned with patterns of concordance; both quantitative and qualitative classifications are discussed. Geographical trends in species' diversity and biological traits are viewed, with Part 3 leading into areography or the analysis of species ranges. The book is drawn together by an overview of all the scales of variation and a glimpse into the future of biogeography. This book will be of interest primarily to scientists in the fields of ecology and biogeography; but the interdisciplinary approach should appeal to all those involved in the biological sciences.
Condition
Vg.
Other titles from the series : Cambridge Studies in Ecology
Click to view all titles in this series...

Carpenter, S.R.; Kitchell, J.F. (Eds)
Price £55.00
Other titles from the collection : Prof Jim Green
You may also like...