Entomologie Analytique. Histoire Générale Classification Naturelle et Méthodique des Insectes. Tome I-II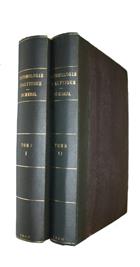 Description:
Text French. The French zoologist André Marie Constant Duméril (1774-1860) was professor of anatomy at the Muséum National d'Histoire Naturelle, Paris and later became professor of herpetology and ichthyology. He published a number of important zoological works including: 'Zoologie analytique' (1806), and the monumental nine volume work 'l'Erpétologie générale ou Histoire naturelle complète des reptiles' (1834-1854). This work, 'Entomologie analytique', illustrated with many attractive wood engravings of insect specimens throughout the text, was his main entomolical work. The first volume provides a general introduction to insects and the Coleoptera. The second includes the Orthoptera, Neuroptera, Hymenoptera, Hemiptera, Lepidoptera, Diptera and other insect orders.
Published in the 'Mémoires de l'Academie des Sciences de l'Institute Imperial de France' Tome XXXI.
Horn-Schenkling 5555.
Condition
2 vols, large-4to, recent qtr cloth in period style, gt, retaining orig. cloth covered boards. Presentation copy with manuscript note from the author to the Zoological Society of London, noting that he had been a 'membre étranger' since 1832. The note is affixed to verso of half-title and is signed and dated 11th April 1860.
You may also like...