Family-Group Names in Diptera and Bibliography: An annotated catalog and bibliography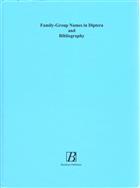 Description:
MYIA, Vol. 10.
Condition
Corners slightly bumped. Vg. From the library of Roger Crosskey (1930-2017) (British entomologist, Natural History Museum, London, specialist in the Simuliidae), with his name to endpaper.
Other titles from the series : Myia
You may also like...