Flechten einfach bestimmen: Ein zuverlässiger Führer zu den häufigsten Arten Mitteleuropas [Identifying Lichen Easily: A reliable guide to the most common species in Central Europe]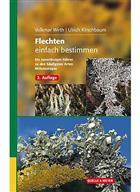 Description:
Text German. 2nd edition. Lichens are extraordinary creatures. They are not plants in the strict sense of the word, but rather double organisms that consist of a community between fungi and algae. Many species defy adverse climatic conditions, thrive in all climatic zones and habitats, and can live for several hundred years. This identification book, equipped with brilliant photos, reliably leads to the approx. 400 most important species in Central Europe and also provides a lot of interesting information on distribution, ecology and the various pointer functions.
Flechten sind außergewöhnliche Lebewesen. Sie sind keine Pflanzen im eigentlichen Sinne, sondern Doppelorganismen, die aus einer Lebensgemeinschaft zwischen Pilzen und Algen bestehen. Viele Arten trotzen widrigen Klimabedingungen, gedeihen in allen Klimazonen und Lebensräumen und können mehrere hundert Jahre alt werden. Dieses mit brillanten Fotos ausgestattete Bestimmungsbuch führt zuverlässig zu den ca. 400 wichtigsten Arten Mitteleuropas und liefert zusätzlich viele interessante Informationen zu Verbreitung, Ökologie und den vielfältigen Zeigerfunktionen.
You may also like...