Flies of the Nearctic Region 5/13: Bombyliidae 7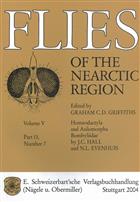 Description:
Worldwide the family Bombyliidae contains upwards to 6,000 species which are distributed on every continental land mass except the areas of the extreme north and south. Within the Nearctic region approximately 1,200 species are known. The majority of the species are found in the arid southwestern United States and in northern Mexico. It is estimated that more than 80% of the bombyliid fauna of the Nearctic is found within this area
Other titles from the series : Flies of the Nearctic Region (Ed. G. Griffiths)
You may also like...