Forest Microbiology: Volume 2: Forest Tree Health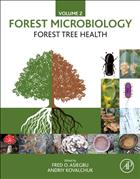 Description:
Forest Microbiology, Volume Two: Forest Tree Health highlights a range of emerging microbial phytopathogens of forest trees, along with novel approaches for managing tree pests and diseases in a changing climate. The book provides an overview of selected microbial pathogens of forest trees, with an emphasis on their biology, lifecycle, spreading mechanisms, impact on affected tree species and current and prospective control strategies. At the same time, the impact of tree microbiomes on host fitness is discussed. Beneficial components of tree microbiota are presented, along with their functional role in tree nutrition, immunity and disease resistance. In addition, this volume addresses the many functions of microbial disease agents of trees including fungi, bacteria, viruses and phytoplasma. Strong emphasis is placed on the genetics, biochemistry, physiology, evolutionary biology and population dynamics of the microorganisms involved. This title is a key resource for foresters and forest pathology practitioners, as well as plant biologists.
You may also like...