Fungorum Libri Bibliothecae Joachim Schliemann: Books and Prints of Four Centuries/Bücher and Schriften aus vier Jahrhunderten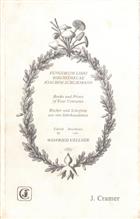 Description:
Text German. 3rd enlarged and improved edition of Catalogus Bibliographicus Librorum Botanicorum Praesertim Mycologicorum quos collegit Joachim Schliemann.
Condition
Some spotting to boards and edges. Vg. From the library of rare book cataloguer, John Collins, with his name to endpaper and his pencil markings to text.
You may also like...