Galapagos: Preserving Darwin's Legacy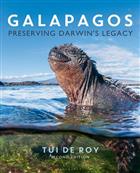 Publisher : Bloomsbury
Illustrations : 200+ col photos
Description:
2nd updated edition. This sumptuous large-format book was first produced in 2009 to celebrate the 50th anniversary of the foundation of the Charles Darwin Foundation on Galapagos. The book comprises a series of invited essays under the editorship of world-renowned photographer and long-term Galapagos resident, Tui de Roy, who has also provided most of the photographs. The authoritative essays cover the entire spectrum of Galapagos wildlife including the marine environment, unique vegetation such as sunflower trees as well as wildlife including giant tortoises, marine iguanas, sea lions and the Galapagos finches that inspired Darwin's theory of evolution.
This new edition has significant updates to a number of chapters including brand new photography and information about scientific developments elsewhere and a new jacket.
You may also like...