Grasshoppers and Crickets (New Naturalist 120)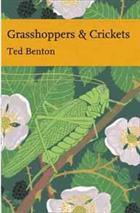 Description:
A comprehesnive account of the appearance, variations, behaviour, habitat, life-cycles and distribution of all the native British species of bush-crickets, crickets, groundhoppers and grasshoppers. The book also highlights ecology and conservation issues relating to British species. An accompanying DVD features many aspects of the behaviour of nearly all British species, including song, conflict, courtship behaviour, sex-role reversal and egg-laying.
Condition
Vg in d/w (spine faded).
Other titles from the series : New Naturalist Main Series
You may also like...