Great Trees of Britain and Ireland: Over 70 of the best ancient avenues, forests and trees to visit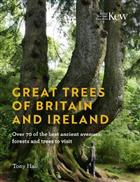 Description:
A wealth of ancient trees, avenues, and forests grow in Britain and Ireland. Boasting Europe's largest number of ancient oaks and yews, Britain and Ireland are home to forests that can be traced back for centuries, feature amazing avenues lined with trees hundreds of years old, and include some truly majestic individual trees.
In this book, Kew expert Tony Hall profiles over 70 of our amazing ancient trees, avenues and forests, revealing their locations across Britain and Ireland. Tony takes the reader on a tremendous tree journey, with treasures such as the stunning wilderness of the highlands of Scotland, home to remnants of the Caledonian Forest, where huge Scots pines grow that are direct descendants from those that first arrived after the last ice age 9,000 years ago. In Ireland, Tony encounters 'Dark Hedges', the imposing beech avenue featured in Game of Thrones, as well as the Muckross yew, one of the country's oldest yews growing in the cloister at Muckross Abbey. Learn about oaks that witnessed ancient battles at the 'Gateway of the Dead' in Wales, and how in central and southern England, the once royal hunting forests from past centuries are now home to some of the best ancient woodland anywhere in Europe and provide a refuge for rare fauna and flora.
This book offers a guide to the best ancient trees, avenues and forests across Britain and Ireland, but also aims to help protect these irreplaceable treasures, by telling their stories and making them more accessible.
With a foreword by renowned tree expert Tony Kirkham, MBE.
You may also like...