Grundkurs Pilzbestimmung: Eine Praxisanleitung für Anfänger und Fortgeschrittene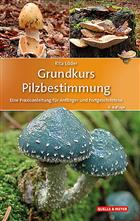 Description:
Text German. 6th thouroughly revised edition. Enables the user to get to know mushrooms and toadstools commonly found in Germany by means of simple, systematic and certain methods. The guide leads step by step to the identification of mushrooms and toadstools by the use of an easy to follow and richly illustrated identification key. The important characteristics can be recognised and thereby allow reliable identification of families, genera and over 400 of the most commonly encountered species. Finally, the most significant edible mushrooms and their poisonous 'lookalikes' are illustrated in detailed photographs.
Dieses in seiner Konzeption einzigartige Werk ermöglicht das Kennenlernen der Pilze auf einfache, systematische und somit sichere Weise. Der Grundkurs führt unter Verwendung eines leicht verständlichen und reich bebilderten Schlüssels "Schritt für Schritt" an die Bestimmung von Pilzen heran. Die wichtigen Merkmale können so zuverlässig erkannt und dadurch Familien und Gattungen sowie über 400 der am weitesten verbreiteten Pilzarten sicher bestimmt werden. Um Verwechslungen auszuschließen, werden die bedeutendsten Speisepilze ebenso wie ihre giftigen "Doppelgänger" nochmals ausführlich und in brillanten Detailaufnahmen vorgestellt. 6., durchgehend bearbeitete Aufl.
, 480 S., ca. 2.000 farb. Abb., geb. 12 x 19 cm.
You may also like...