Guide des sauterelles, grillons et criquets d'Europe occidentale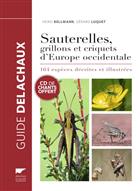 Description:
Text French. Second edition. A guide to identification of more than 200 species of grasshoppers and crickets found in western Europe. Includes identification keys, detailed descriptions, including distribution and habitat for each species. Includes a CD of songs for 94 species.
Other titles from the series : Les Guides du Naturaliste
Click to view all titles in this series...


Bellmann, H.; Luquet, G.
Price £25.00
You may also like...