Handbook of Amphibians and Reptiles of Northeast Africa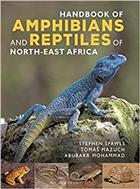 Description:
This handbook is the first complete guide to the herpetofauna of northeast Africa, covering seven countries - Djibouti, Egypt, Ethiopia, Eritrea, Somalia, South Sudan and Sudan.
It contains keys, comprehensive descriptions, maps of all species and photographs of virtually all species known from the region, including 114 species of amphibians and more than 460 species of reptiles. It is an essential tool for herpetologists and conservationists involved with any aspect of the African herpetofauna, and for museums and specialist libraries.
Comprehensive and written by the world's leading experts in the field, this is the first book ever written on these animals.
You may also like...