Il Genere Battus (Lepidoptera, Papilionidae): Tassonomica e Storia Naturale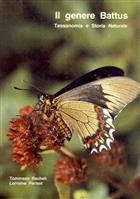 Description:
Text Italian. Fragmenta Entomologica 23, Suppl. Taxonomy and Natural History of the genus Battus (Papilionidae)
Other titles from the series : Fragmenta Entomologica
Click to view all titles in this series...

Racheli, T.; Pariset, L.
Price £28.00

Prola, C.; Provera, P.; Racheli, T.; Sbordoni, V.
Price £25.00
You may also like...