Insects Abroad: being a popular account of Foreign Insects, their Structure, Habits and Transformations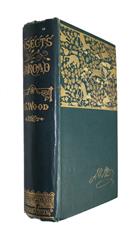 Description:
New edition. Illustrations by E.A. Smith and J.B. Zwecker, engraved by G. Pearson. Wood states "the object of the work is two-fold; first to show the great and important part played by Insects in the economy of the world, and the extreme value to mankind of those insects we are accustomed to call Destructives; and next to note the wonderful modifications of structure which enable the insects to fulfil their mission, and the surpassing beauty with which many of them are endowed."
Condition
8vo, orig. dec. cloth, gt, teg, minor wear to extremities. Scattered light foxing. Vg.
You may also like...