Insects of Ireland: An Illustrated Introduction to Ireland's Common Insect Groups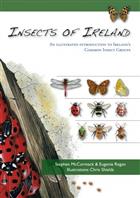 Description:
Over 11,000 species of insects occur in Ireland but most are very small and escape notice. Identifying them accurately can be difficult or impossible. This comprehensive compact guide to over 120 of Ireland's most popular insects includes all Irish species of butterflies, bumblebees, dragonflies, ladybirds, grasshoppers and shield bugs. All are illustrated in colour with clear descriptions enabling accurate identification
You may also like...