Insects of Kazakhstan: A photographic atlas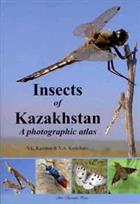 Description:
The central Asian country, Kazakhstan has a high insect diversity, which has been relatively poorly studied to date. This guide provides an overview of insect fauna and illustrates the most common and larger insects most likely to be seen by those visiting the country. Over 1000 species illustrated, many for the first time
You may also like...