Jungle Gems: A Naturalist's Tale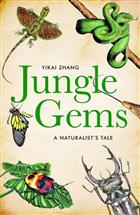 Publisher : Unbound
Illustrations : col illus
Description:
When the amateur naturalist Yikai Zhang chanced upon a box of beetle specimens collected by the insect dealer Hakamoto, he discovered among them what seemed to be evidence of a new species – a sinister-looking Carabus from Hainan Island, where the genus had never been seen before. Yikai's curiosity intensified when Max Barclay, a world-leading entomologist at the Natural History Museum, was baffled by the entire collection. But with only this single specimen known to science, they had to gather more evidence to establish the validity of this species. Max sent Yikai on the mission of his dreams – an expedition to the jungles of Hainan in search
of the elusive Carabus. On his quest, he encountered some of the most bizarre and wonderful creatures imaginable as he trekked through the island's rugged interior, battling the elements and his innermost fears. What he could never have known was that the outcome had already been written, and as the clouds of mystery cleared he was forced to accept a shocking but irrefutable truth ...
* Part detective story, part adventure narrative, this is the true account of the author's remarkable experiences as an amateur entomologist.
* Contains detailed colour illustrations by the author, along with black and white chapter openers depicting the landscapes featured in the story.
* For fans of In Pursuit of Butterflies by Matthew Oates, Ladders to Heaven by Mike Shananan and The Orchid Hunter by Leif Bersweden.
You may also like...