Kunstkammer: Early Modern Art and Curiosity Cabinets in the Holy Roman Empire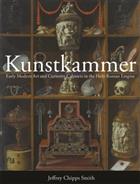 Description:
Kunstkammern, art and curiosity cabinets housed in a dedicated room or suite of chambers, were often filled with thousands of diverse and sometimes shocking objects reflecting the bounty of nature and human creativity. These could range from a cherry pit carved with dozens of faces to an intricate drinking cup fashioned from a rhinoceros horn. Whether as a setting for personal contemplation or as a manifestation of the wealth and prestige of its owners, these proto-museums dazzled visitors of the time. This book offers the first in-depth comparative examination of the history, theory, organization and character of the major Kunstkammern in the Holy Roman Empire.
You may also like...