Life on Air: Memoirs of a Broadcaster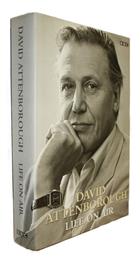 Collection : Keith Hyatt
Publisher : BBC Books
Published In : London
Illustrations : 114 col + b/w photos
Description:
First edition.
Condition
Vg in d/w. From the library of Keith Hyatt (d. 2021), acarologist at the Natural History Museum, London, and prominent member of the London Natural History Society, with his signature to endpaper. Six magazine articles and five newspaper clippings about David Attenborough enclosed.
Other titles from the collection : Keith Hyatt
You may also like...