Lundy by Land and Sea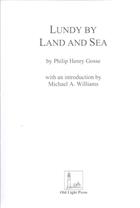 Description:
Gosse was invited to visit Lundy in July 1852 where he spent a week studying the natural history. His work was subsequently published as a series of articles in the Home Friend (a weekly miscellany of amusement and instruction) in 1853. Gosses work was later reprinted alongside other articles in Land and Sea in 1865. Copies of both Home Friend and Land and Sea are now difficult to obtain. This reprint of the articles from the Home Friend attempts to make the original text more widely available. Every effort has been made to reproduce the text and layout in a sympathetic manner to reflect the styl of Gosses original work as it would have appeared in the nineteenth century. Limited numbered edition of 200 copies. Introduction by Michael A. Williams.
Condition
Green cloth
You may also like...