Manual of the Land and Fresh-Water Shells of the British Islands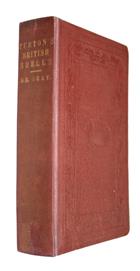 Description:
New [4th] edition, with additions by J.E. Gray. 22-page publisher's catalogue bound at rear.
Freeman 3779.
Condition
8vo, orig. blind-stamped cloth, neatly rebacked retaining orig. backstrip. Contemporary owner's name to to top of title-page. Loosely inserted is a folded, single sheet (284x218mm), heavily foxed, printed on one side, titled 'A List of British Land and Freshwater Shells, Compiled from "Jeffreys' British Conchology" with additions to the present time' by W. Nelson and J.W. Taylor.
From the library of L.W. Stratton with his name to half-title and pencil annotations to verso of plates. Stratton had a book on collecting shells published by Faber & Faber (1968); he also contributed to Journal of Conchology.
You may also like...