Marine Wildlife of the Mediterranean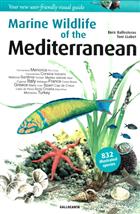 Description:
This will help you identify species you encounter while diving. A total of 832 species are illustrated, from cetaceans to seaweeds, including sea birds, turtles, fish and all kind of invertebrates. Each drawing is accompanied by a brief description of the species, its most popular English name(s), its scientific name and icons that clearly summarise data of interest. Identifying some of its most remarkable locations, describing its main habitats and providing invaluable tips and advice on observing its flora and fauna.
You may also like...