Moths of Europe. Vol. 8: Microlepidoptera 2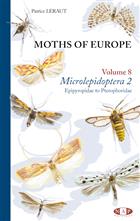 Description:
This final volume in the series deals with about 30 families of Microlepidoptera from Epipyropidae to Pterophoridae (the first volume on Microlepidoptera (Vol. 7) covers the Micropterygidae to Tortricidae). Over 2,000 species are illustrated and described in detail with a focus on their biology (plants on which they feed, their mines, cases, frequent biotopes, usual flight period and distribution). As this is the last volume in this series, a list of all the Lepidoptera in Europe is included. All species illustrated in colour, some genitalia are also illustrated.
Other titles from the series : Moths of Europe
You may also like...