Naturalized Mammals of the World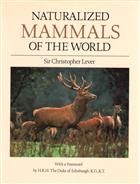 Description:
The first definitive work to describe when, where, why and by whom nonindigenous mammals living today in the wild were first introduced.
Condition
Vg in d/w. From the library of Prof. J. Green (1928-2016) with his name to endpaper.
Other titles from the collection : Prof Jim Green
You may also like...