Nick Bakers Bug Book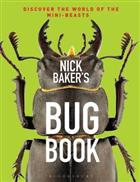 Description:
Essential reading for wildlife enthusiasts of all ages, this entertaining yet informative book is packed with colour photographs and astonishing facts from the world of mini-beasts - including worms, snails, ants, woodlice, centipedes, flies, grasshoppers, beetles, bees, spiders, moths and butterflies. Plus many practical projects for having fun with bugs.
Reissue - originally published by New Holland.
You may also like...