Palaearctic Macrolepidoptera 1: Notodontidae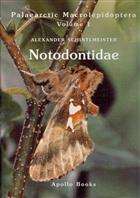 Description:
Palaearctic Macrolepidoptera is a major new series covering all Palaearctic species (each volume will cover either a subfamily, family or several families).
Vol. 1 is the first comprehensive work on Palaearctic Notodontidae since Seitz nearly a century ago. It cover in detail each of the approximately
520 species known from the Palaearctic Region; species accounts: scientific name; synonyms; diagnosis; bionomics; distribution. Distribution maps show both Palaearctic and non-Palaearctic range. Photos of male and female genitalia for each species. Approx. 1500 specimens are illustrated on the colour plates, showing variation
Other titles from the series : Palaearctic Macrolepidoptera
Click to view all titles in this series...

Zolotunin, V.
Price Price:Not yet confirmed

Solovyev, A.
Price Price:Not yet confirmed
You may also like...