Physikalische Krystallographie und Einleitung in die Krystallographische Kenntniss der wichtigeren Substanzen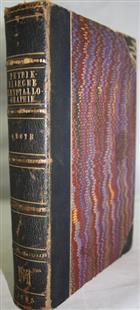 Publisher : Wilhelm Engelmann
Published In : Leipzig
Illustrations : 1 folding col plate, 631 text figs
Description:
Text German. 2nd edition.
Hugo Heinrich Wilhelm Müller, (1833–1915), was an industrial chemist. Born at Tirschenreuth, Bavaria, he studied at the University of Leipzig, where he attended lectures on chemistry, physics, mineralogy, and geology. In 1852 he moved to Göttingen to study under Friedrich Wöhler (1800–1882),
In 1854 Müller moved to London, to take up the post of private assistant to Warren De la Rue at the De la Rue printing company, He mixed with a circle of talented chemists, including Friedrich August Kekulé and, later, Peter Griess, Carl Alexander Martius, and William Henry Perkin.
Müller became an expert in the field of paper making, which led him to the study of compounds present in leaves of various plants (1873–1912).
He became president of the Chemical Society 1885–7 and president of the Mineralogical and Crystallographic Society of Great Britain 1901 to 1904. On his death his widow and daughter donated £1000 to the Chemical Society research fund and for the triannual Hugo Müller lecture and donated his mineral collection and book collection and to the University of Oxford. ()DNB)
Condition
8vo, half morocco, gt, rubbed/scuffed, marbled boards, edges and endpapers. Ex-lib.: institutional book plate and small presentation label of Mrs. Hugo Müller.
You may also like...