Pitcher Plants of the Old World. Vol. 1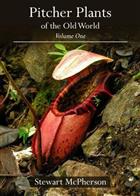 Description:
Pitcher plants include the largest and most spectacular of all carnivorous plants. So-called because they produce highly specialised foliage that takes the form of hollow, water-filled 'pitchers', these extraordinary plants lure and prey upon arthropods and other small animals. The pitcher plants of the Old World also trap the largest prey of all carnivorous plants, including on rare occasions, vertebrates as large as frogs, mice and even rats. This two volume work examines both genera of Old World pitcher plants (Nepenthes and Cephalotus) and documents the ecology and natural diversity of every known species for the first time and in unparalleled detail…
Volume 1 consists of the following chapters; Introduction, Carnivorous Plants of the World, The Pitcher Plants of the Old World, The Evolution of the Pitcher Plants of the Old World, Trapping Processes, Infauna, Nepenthes of Borneo and Nepenthes of Peninsular Malaysia and Indochina.
You may also like...