Plant Pathology and Plant Diseases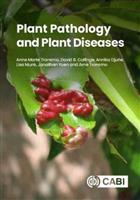 Description:
This textbook provides a comprehensive introduction to all aspects of plant diseases, including pathogens, plant-pathogen interactions, their management, and future perspectives. Plant diseases limit potential crop production and are responsible for considerable losses in agriculture, horticulture and forestry. Our global food production systems are under increasing pressure from global trade, climate change and urbanization. If we could alleviate the losses due to plant diseases, we would be able to produce roughly 20% more food - enough to feed the predicted world population in 2050. Co-authored by a group of international teachers of plant pathology who have collaborated for many years, the book gives expert and seamless coverage. Plant Pathology and Plant Diseases: Addresses major advances in plant-pathogen interactions, classification of plant pathogens, and the methods of managing or controlling disease Is relevant for a global audience; it covers many examples of diseases with an impact worldwide but with an emphasis on disease of particular importance in a temperate context Features over 400 striking figures and colour photographs, available online to facilitate teaching It is suitable for graduate students and advanced undergraduates studying plant pathology, biology, agriculture and horticulture.
You may also like...