Pocket Guide to Butterflies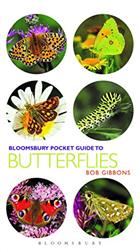 Description:
This useful field guide contains many full-page and double-page photographs in support of the authoritative text. Each species is illustrated by the author's photographs. The text covers information such as ID features, distribution, habitat, status, confusion species and interesting facts.
Other titles from the series : Bloomsbury Pocket Guides
Click to view all titles in this series...

Harris, J.C.
Price £9.00
(Save £1.00)
Gibbons, B.
Price £9.00
(Save £1.00)
You may also like...