Poisonous Plants A Cultural and Social History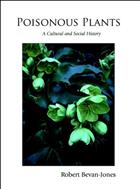 Description:
An introductory essay puts into context the development of British society's knowledge of toxic plants. The book's central A to Z section, from aconite to yew, then informs the reader about the history and uses of 43 species of poisonous plants, especially those that have a documented history of medicinal usage. Four important fungi species - death cap, liberty cap, fly agaric and ergot - also have separate essays. As well as the plants' histories and appearance, their chemical constituents receive coverage
You may also like...