Population Genomics: Wildlife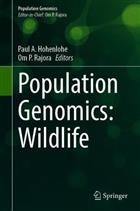 Description:
Population genomics is revolutionizing wildlife biology, conservation, and management by providing key and novel insights into genetic, population and landscape-level processes in wildlife, with unprecedented power and accuracy. This pioneering book presents the advances and potential of population genomics in wildlife, outlining key population genomics concepts and questions in wildlife biology, population genomics approaches that are specifically applicable to wildlife, and application of population genomics in wildlife population and evolutionary biology, ecology, adaptation and conservation and management. It is important for students, researchers, and wildlife professionals to understand the growing set of population genomics tools that can address issues from delineation of wildlife populations to assessing their capacity to adapt to environmental change. This book brings together leading experts in wildlife population genomics to discuss the key areas of the field, as well as challenges, opportunities and future prospects of wildlife population genomics.
You may also like...