Psocoptera (booklice, barklice) (Handbooks for the Identification of British Insects 1/7)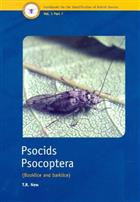 Description:
2nd edition. Since publication of the 1st edition in 1974, 7 new species have been recorded in Britain. This revised edition includes 98 species (in 19 families), with keys to families, genera and species. Introduction to classification, relationships, biology and external morphology, with notes on collection and study
Other titles from the series : Handbooks for Identification of British Insects
You may also like...