Rocky Shores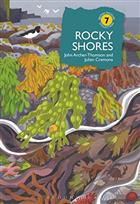 Description:
This book explores the species, communities and landscape of the narrow strip of land along our coastline. Limited in extent it may be, but no other habitat in Britain is as extreme and dynamic. As the tide ebbs and flows, physical and chemical conditions can alter dramatically in a matter of minutes, yet an impressive number of life forms have adapted and even thrive in these challenging conditions. Rock pools dotted across the shore contain unique pockets of diversity, while the strandline at the high-tide mark supports a curious community of microbes and invertebrates that in turn attract birds and mammals. Jthe authors gently guide the reader through the patterns of marine biodiversity that might be encountered on sheltered and exposed shores: from the inhospitable splash zone to the repeatedly submerged lower shore, and everything in between. In addition to the ecology, there is also much to be said about our cultural and historical links with the shore, and the authors also reflect on what the future may hold for this beautiful but vulnerable coastal ecosystem. Filled with stunning photographs of rocky shores and their extraordinary inhabitants, this book will appeal to anyone with a love of the shore from the occasional rockpooler through to enthusiastic naturalist.
Other titles from the series : British Wildlife Collection
You may also like...