Scientific Results of the Second Yarkand Mission; based on the collection and notes of Ferdinand Stoliczka. Araneidea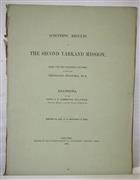 Description:
Ferdinand Stoliczka (1838-1874), originally from Moravia, joined the Geological Survey of India (GSI) under the British Government in India after being recruited by Dr Thomas Oldham. He worked in India on geology, palaeontology and zoology. His final expedition, The Second Yarkand Mission (1873–1874) set out from Rawalpindi to Leh via Murree. The mission travelled past the Pangong Lake, Changchenmo and Karakash Valley onto Shahidulla and finally to Yarkand. They reached Kashgar in December 1873. On March 17, 1874 they began the return journey. They were to visit the Pamir and Afghanistan areas but could not do so due to the political situation and returned to India via Ladakh. Stoliczka died of altidude on the return journey
Condition
4to, wrappers, with a few small tears. Pages un-opened. Vg
You may also like...