Small Green Roofs: Low-Tech Options for Greener Living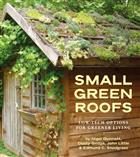 Description:
Until now, the green roof movement has been limited to large-scale, professional endeavors and public buildings. But homeowners everywhere are catching onto the benefits of a green roof - water conservation, energy savings, and storm water management. This book profiles ordinary homeowners who scaled green roofs down to the domestic level. The first book to focus on small-scale and domestic green roofs. More than forty profiles of small and domestic-scale projects of all shapes and sizes include green roofs on sheds, garden offices, studios, garages, houses, bicycle sheds, and other small structures, as well as several community projects. For each project, details are given for design, construction, and installation, as well as how-to tips on how the roof was planted and cared for. For readers looking for inspiration when hiring a contractor or taking the adventurous step of building their own, this book provides the knowledge and encouragement to make it possible.
You may also like...