Studying Invertebrates (Naturalists' Handbooks 28)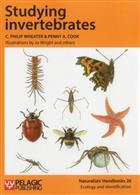 Description:
Reprint. First published 2003. Not an identification guide, but a guide to techniques and methods of analysis used in ecological sampling and investigations on invertebrates. Sampling, identification, describing data, statistical testing, presenation of results. Future volumes in this series will only be published in paperback format
Other titles from the series : Naturalists' Handbooks
You may also like...