Successful Scientific Writing: A step-by-step guide for the biological and medical sciences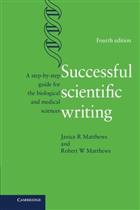 Description:
4th edition (2014), reprinted. The detailed, practical, step-by-step advice in this user-friendly guide will help students and researchers to communicate their work more effectively through the written word. Covering all aspects of the writing process, this concise, accessible resource is well-structured, comprehensive, and entertaining. Self-help exercises and abundant examples from actual typescripts draw on the authors' extensive experience. Whilst retaining the user-friendly and pragmatic style of earlier editions, A new section provides extensive coverage of ethical issues, from plagiarism and dual publication to honesty in reporting statistics. Both the text and 30 hands-on exercises include abundant examples applicable to a variety of writing contexts, making this a powerful tool for researchers and students across a range of disciplines. And broadened to incorporate such timely topics as guidelines for successful international publication, ethical and legal issues including plagiarism and falsified data, electronic publication, and text-based talks and poster presentations. With advice applicable to many writing contexts in the majority of scientific disciplines, this book is a powerful tool for improving individual skills and an eminently suitable text for classroom courses or seminars
You may also like...